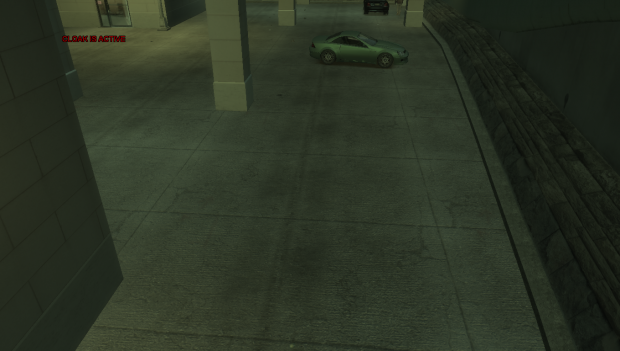 Visions: Alien, Thermal, Infrared. (PS: They're not actual visions because in GTA IV there's no such thing as Thermal vision like in GTA SA , sadly, but they do have a cool feature)
When Thermal vision is activated, all Armed Threats will appear with a blip on the map (Cops)
Cloaking system(Working on this so the Character won't disappear completely)
If it's raining or you're in water , the water will interfere with the cloak and it will turn off.
When you press N you do those cool clicking sounds, or snarls of the predator.
If you press ALT+B you will roar and all nearby Pedestrians will run in fear.
Faster Movement, and you can Jump Higher.
If you press K you will kick a nearby ped and he will fly (not unrealistically, but mostly based on the actual force of a Predator) (Thanks to HippieCommunist for this!)
And maybe others that I can't remember right now.
Planning on adding:
I'm currently learning on how to Model with 3Ds Max, and I'm gonna replace the Knife for a Spear, because I have a script that enables you to throw the Knife, so basically you would throw a Spear (NOTE: Might change my mind and put a Disc instead of a Spear)(Thanks to Hippie Communist for this awesome Script)
Planning on adding a Bracelet screen , Example : You press "L" and a screen will appear with the bracelet-computer of the Predator and you'll be able to turn on autodestruction , or put the cloak manually (Not really sure about this, because my scripting experience isn't that big, but might make it)
Make new masks for the Predator to make a special Predator, The Hunter of Liberty City.
Make a script to remove the mask.
And everything else that comes to my mind.
___
Note please that the date is TBD (To be Decided)... when I fix some stuff and add some other stuff then I will release a Alpha or Beta version depending on my progress.
____
Disclaimer: I do not have any affiliation with 20th Century Fox nor do I own Predator copyright . I do not intend to gain money with this now nor in the near future, this is entirely for fun purposes.