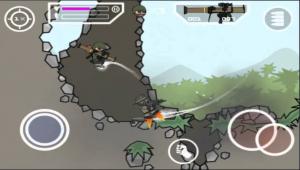 DOODLE ARMY 2 IOS CHEATS MINI MILITIA
Game Cheats:
Rocket Boost:
If you melee while flying you will discover that you will get extra rocket boost speed. This trick also works with walking.
Grenade Impact Blocking:
You can reduce the amount of damage you take when a grenade is about to explode near you by crouching down.
Force Game Start:
If you type 'i like to move-it' (without the quotes) into the chat bar the game will auto start.
Tactics:
This is an online multiplayer game, so consequently there are no cheats for this game. We 100% recommend that you DO NOT try to download hacks for this game - you could end up with something nasty on your device like a virus.
If you want the Pro Pack, I'm afraid it's something you will have to pay for.
Anyway, here we just wanted to add a few tactics that we thought about when playing the game.
1) Use the zoom multiplier - (1x 2x 3x etc...) If you tap and leave it on the highest number it will let you it will allow you to see to enemies that are a bit further away.
For example if you have the zoom on 1x and someone else has it on 3x - it's likely he will see you before you see him.
2) Purchase the Pro Pack.
The Pro Player Pack will give you full access to dual wield ability, extra avatar customization items and online weapons such as the rocket launcher, sniper rifle, laser, saw gun and more.
3) Find a safe corner.
You don't really want two people coming at you from different directions and being stuck in the middle.
4) Be aggressive.
This contradicts the previous tip! This is just a game, and it's about having fun, so go out there and blast away, you can't make as many kills if you just hole yourself away in a corner, and you probably won't improve your control and weapons management either.
Free weapons:
Open mini militia then close it press for a second
See the x button tap it reminder:it's not just deleting it
Download the app again then type in chat room yeh haw
Then /uploadstandardweaponsweaponsqwr?//! Then there you have...
Ak 46,bazooka,sniper,mi6,caliber,10 granades enjoy :D
NOTE:only works for private levels.
Codes:
Enter the following case sensive codes (without the quotes) to enable the corresponding effect.
7,000 Battle Points:
Enter 'gummy bear'
Captain of the Army:
Enter 'duke'
No Reloading:
Enter 'tootsie pop'